_____tokio_ 0312_bow_____
by ichico
---
_31_12_03_
re-ending to when
who decided?
re-starting from when?
---
_30_12_03_
dull end again
hate end again
hate holidays again
---
_29_12_03_
want no move
want no eat
want perfect asleep
---
_28_12_03_
finish the despatch
still much work though
getting so tired
---
_27_12_03_
ending work hard
switching dash vacance
or just resting
---
_26_12_03_
rescue that girl
save that girl
warm that girl
---
_25_12_03_
buzzy street run-ahead
buzzy work must-end
buzzy drink go-crazy
---
_24_12_03_
no eve no xmas
none more angels
out of atomos
---
_23_12_03_
emperor b-day holiday
feel already passed
that xmas mood
---
_22_12_03_
some of illuminating
ugly
wildfire!? ><
---
_21_12_03_
illumination trends much
here 'n there tokio
just like calming
---
_20_12_03_
so so cold
so so windy
snowing over japan
---
_19_12_03_
ybb no connect
for 3 business days!?
w/out any pre info!!!
---
_18_12_03_
despatching many eyes
to the dolls awaiting
they can go see out now
---
_17_12_03_
re-see that girl
on the corner she sits
a little with damaged
---
_16_12_03_
in yoyogi park
she plays with ginkgo
she lays in yellow flies
---
_15_12_03_
non stop working
busy term till end
again running this week
---
_14_12_03_
very sunny blue sky tokio
went to jingu for pray
pray for all peace
---
_13_12_03_
better days lunch
a little not-enough
better bread prefer
---
_12_12_03_
one step closer
to iraq for what
know what they want?

---
_11_12_03_
we want no pain
we want no hate
we want no bombs
---
_10_12_03_
getting little wet
they say cold tokio
no, warmer than last year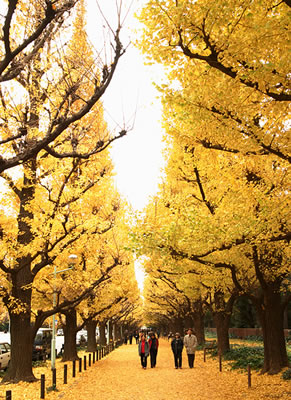 jingu gaien ginkgo in 2003 early winter
Photo by Kunio - December 5, 2003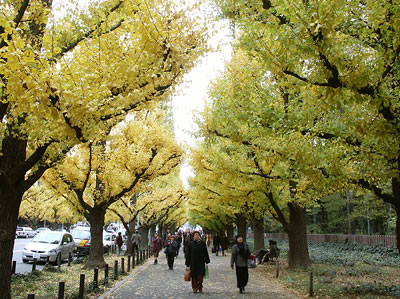 jingu gaien ginkgo in 2002 late autumn
Photo by Kunio - November 23, 2002
---
_9_12_03_
busy with eyes
itchy check eyes
many colorful eyes
---
_8_12_03_
before xmas atomos
lots illumina streets
even here on shinto island
---
_7_12_03_
no feel sunday
endless net work
want more time
---
_6_12_03_
soso biggy ginza
soso beauty ginza
soso happy ginza
---
_5_12_03_
i saw mac new bldg in ginza
i saw fall stop fall stop rain ginza
everything seems to be as usual
It's a hole of greenery where a river sings
Hanging crazily the silver rags on the grass,
Where the sun shines from the proud mountain,
It's a little valley where the ray foams.
A young soldier sleeps, mouth opened, bareheaded,
And the nape of his neck in the blue cold watercress;
He is stretched himself out in the grass, under the cloud,
Pale in his green bed where the light rains
His feet in the gradiolus, He sleeps.
Smiling like a sick child, He takes a nap:
Nature, cradle him warmly, he feels cold.
The perfumes does not make him sniff;
He sleeps in the sun, his hand on his quiet breast.
He has two red holes in his right side.
Arthur Rimbaud
October 1870
Translated by Kunio Monji on March 1st, 2003
---
Note:
The "gradiolus" means a sword, a soldier or a combat. The word comes from Latin "gladius" that means a sword. Because the shape of the leaf is just like a sword. M. Claude Duchet says that this gradiolus is the iris in the swamp in Ardenne, which has yellow flowers in June and July.
---
_4_12_03_
could no hear any more
could no tell any more
closed black voices make fictitious history
---
_3_12_03_
sunny busy windy
scooone blue sky high
gingko yellow carpet foot

---
_2_12_03_
h2 blast down at last
no big surprise though
never true result for tech people
---
_1_12_03_
busy monday dec starts
still crazy working on
but want a stop for remind
---